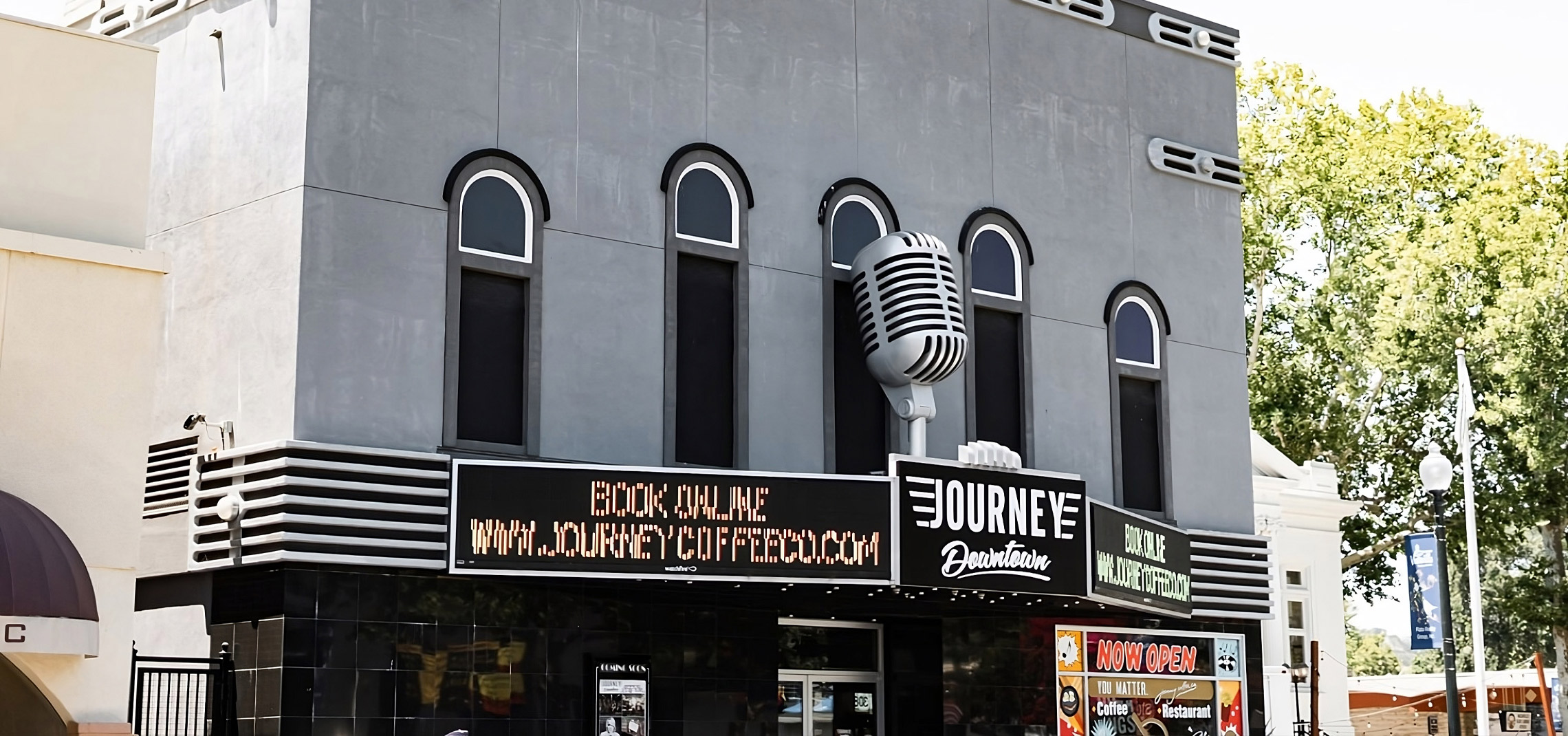 Creating Community Experiences at Journey Downtown Theatre
Intimate and inviting the 450+ seat performing arts theatre at Journey Downtown is in the heart of downtown Vacaville. Its distinctive contemporary architecture, offers an attractive and convenient setting for performances, meetings, and other extraordinary events. A spacious courtyard, equipped with a wood-burning pizza oven with private patio create an airy and inviting atmosphere. The Library Bar (former home of Vacaville's Chamber of Commerce) has been transformed into a full bar which offers live music in an elegant and classic library setting each week (Thursday-Sunday). An excellent space for a private holiday party or team recognition event, this space can be transformed into your own private oasis!
Bringing Your Vision to Life
Whether you're planning an intimate gathering or a grand spectacle, the Journey Downtown Theatre is the perfect stage. Immerse your guests in historic elegance and state-of-the-art facilities, all customizable to your event's needs.
You'll find two key resources below: a Rental Pricing Sheet that provides detailed breakdowns of costs, and a Technical Specs Sheet which delves into the technical aspects of the theatre and equipment. Each sheet is designed to give you a complete understanding of how this space can accommodate your event.
If you're interested in inquiring about renting the venue, we have many options for the theatre, the greenroom, the courtyard, and library. To request a quote please fill out the form on the Journey Downtown website linked below.
Once your rental contract has been signed, and the deposit has been paid please fill in the form below to provide us with the information we need to create a ticketing link for your event.
308 Main Street, Vacaville, California
1926: The establishment, initially named Clark Theatre, was operational as a church and cinema projecting popular Hollywood hits during the silent film era.
1940's: It was renamed to Vacaville Theatre when bought by the West-Side Valley Theatre Chain.
1952: Architect Gale Santocono from San Francisco conducted several enhancements.
1965: A remodel occurred based on architect Alexander McKenzie Cantin's designs.
2012: Investors started an extensive renovation of this nearly 10,000 sq. ft., 3-story building with ambitious plans to transform the theatre into a major entertainment facility—hosting nationally recognized performances and big private events.
2014: After a $2 million transformation, it reopened as DeVille Theatre. It operated as a live entertainment venue hosting concerts, stand-ups, wrestling matches, movie screenings and more accompanied by a full-service lobby bar. Over the following six years, DeVille underwent multiple ownership changes and temporary closures until live shows were halted due to the COVID-19 pandemic.
2021: Nicole and Morne Van Staden purchased the Theatre DeVille, renaming it "Journey Downtown". They are also owners of Journey Coffee, that originated as a coffee truck in Vacaville's Premium Outlets in 2013.